Home
PSV Minibus Hire – Self Drive
PSV Minibus Hire
A selection of minibuses we have available as PSV vehicles for self drive hire
PSV Minibus Hire from Maun Motors

15 seat & 17 seat Self Drive PSV Minibus Rental

Situated on the Nottinghamshire / Derbyshire border, and just 1 mile off M1 Junction 28, Maun Motors' Minibus Hire Department is ideally located to serve the East Midlands region including Derbys, Notts, Lincolnshire, Leicestershire & Northamptonshire.
We have a selection of 15 & 17 seat minibuses which are tested as PSVs, rather than going through a standard MOT. These vehicles have the additional signage and safety features so that they meet PSV standards. These are ideal for customers who need a short-term replacement or addition to their PSV fleet (e.g. when a vehicle is off the road for repair), allowing them to maintain their contracted levels of service.
Please note that not all of our minibuses are PSVs, so if you need to hire a PSV, please make sure you specify this at time of booking.
We also hire out high specification, luxury 9 seat minibuses, such as the Ford Tourneo Custom and more basic, larger models.  So, besides PSV minibuses, we also have a minibus to hire to suit most occasions, from event security, to sports teams & clubs, to transport for corporate events.
Maun Motors' modern Hire Fleet of Minibuses (9 seaters, right through to 17 seater models) has a vehicle to suit most passenger transportation requirements.  All vehicles are fitted with three-point lap and diagonal seatbelts throughout; ABS, Traction Control and a host of safety features, designed to transport your passengers in comfort and safety. Many of our PSV minibuses available to rent also meet Euro 6 / Euro VI emissions requirements and are, therefore, London ULEZ compliant vehicles.
Our 9 seater (8 passenger seats plus driver) executive luxury minibuses have high specification interiors to provide a high level of passenger comfort. With models such as the Ford Tourneo Custom available, arrive in style with a luxury minibus hired from Maun Motors.
For information regarding driving licence categories click to:  https://www.gov.uk/driving-licence-categories and for further information on driving a minibus, please see:  https://www.gov.uk/driving-a-minibus.
Our team – based near Alfreton in Derbyshire – will be happy to assist you in finding the PSV minibus to hire for your needs, so if you would like to discuss your requirements, please give our team a call today on 01773 810007 or use our handy contact form to request a call back.
Our convenient central base in the East Midlands means we're ideally placed to supply self drive PSV minibus hire to cities such as Nottingham, Derby, Northampton & Sheffield. With the A38 dual carriageway and the M1 motorway both running just 2 minutes away from our hire depot, we have great transport links from all areas of the Midlands, including Derbyshire, Nottinghamshire, Leicestershire, Staffordshire & Northamptonshire.
We're less than an hour by road from the centres of Leicester, Newark-on-Trent, Burton upon Trent, Uttoxeter & Loughborough and just a few miles by road from the following towns & cities: Sutton-in-Ashfield (3 miles), Ripley & Mansfield (7 miles), Belper (19 minutes), Ilkeston (15.5 miles), Long Eaton (20 miles), Burton upon Trent (27 miles), Hucknall (10.5 miles), Ilkeston (15.5 miles), Long Eaton (20 miles), Worksop (22 miles), East Midlands Airport (28.5 miles), Grantham (40 miles), Stafford & Stoke-on-Trent (50 miles), Rugby (58 miles), Coventry (62.5 miles) and Northampton (75 miles).
Self Drive Commercial Vehicle Hire in the East Midlands
Car hire, Crane Lorry / Hiab hire, Moffett Truck-Mounted Fork Lift hire, Specialist Truck & van hire, Truck & Van hire, Tractor Unit & Trailer hire.
Daily Hire From (excl. VAT) £50.00
15 Seat PSV Minibus Hire – e.g. Ford Transit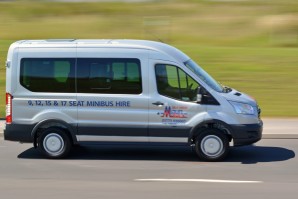 Daily Hire From (excl. VAT) £50.00
12 Seat PSV Minibus Hire – e.g. Ford Transit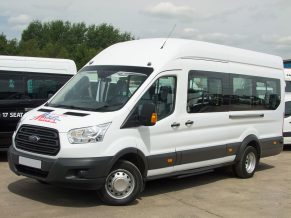 Daily Hire From (excl. VAT) £60.00
17 Seat PSV Minibus Hire – e.g. Ford Transit